Red Bull RockCrawling Team - Some recent pics
Josh England Photography handed us some pics from a recent event to share!
August 10, 2008 - Cedar City always provides for action, especially when Lil Rich Klein of W.E.ROCK designs the courses. We were lucky to have Josh England there, at the right place and right time to catch two of our team's exciting moments. Becca, along with her spotter, Mike Berard, were driving the Red Bull RockHer II at round 2 of the W.E.ROCK Western Pro Rockcrawling national series in Cedar City, Utah.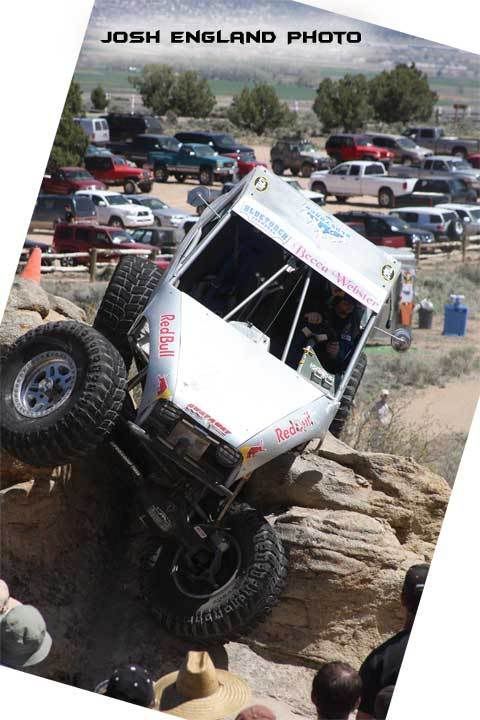 First course of the day, they were backing off an insane bonus line and got tripped up by the off-camber line it forced them into.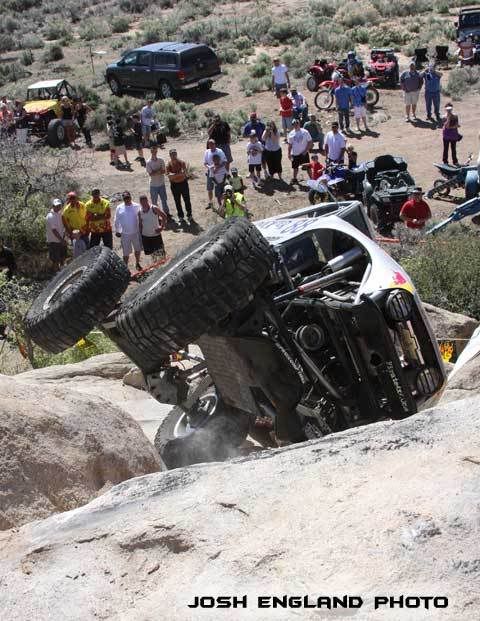 Well, that's not how you're supposed to be in crawling, especially after you've just done very well on the rest of the course and are only about 50 feet from the exit gate with no more intermediate gates to get through. So, what do you do?

KEEP DRIVING!!!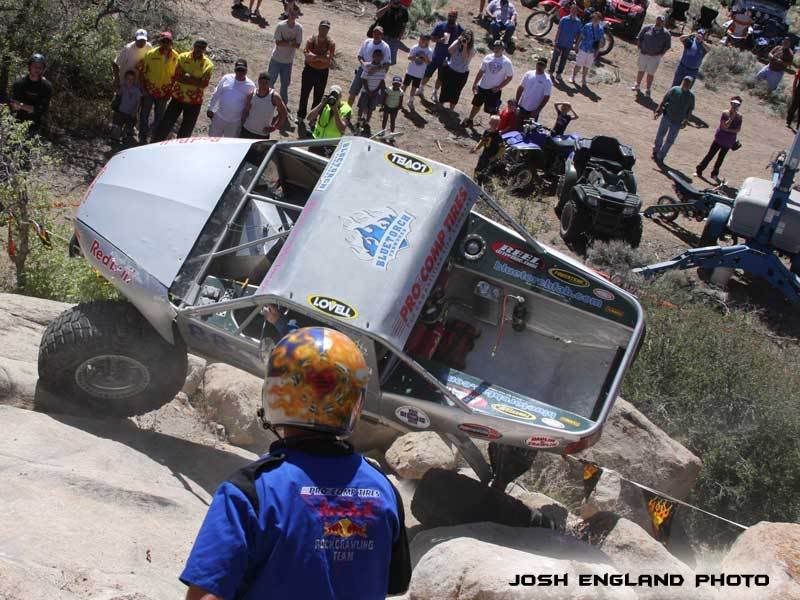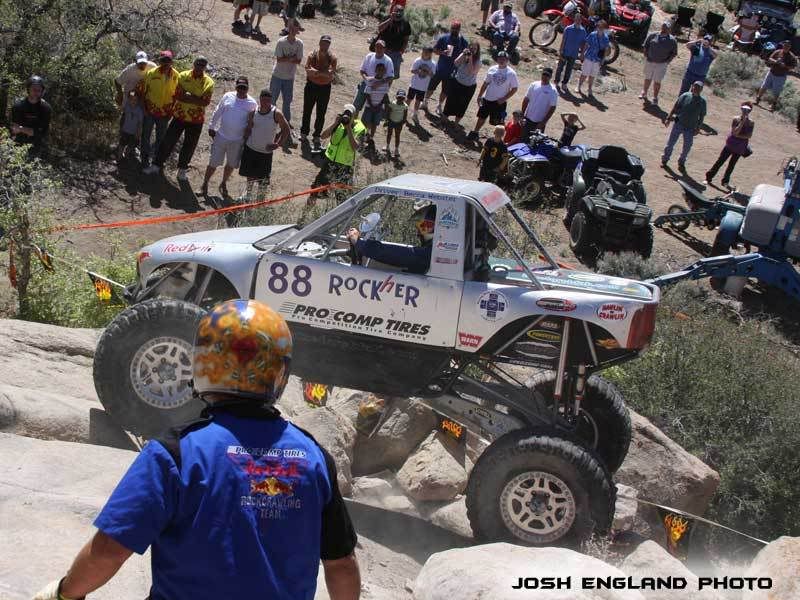 And viola, you're pointing out towards the exit gate with no extra backup points! ;-)
Now, on day 2, you're on a major comeback run and need the biggest of bonus points to get you back in the points game. Remember, not just the event is on the line, but the season too! Last course, only a few have completed even the regular line, so there's about 65 points just waiting for you to take if you can complete the big 20 point bonus drop-off. Here's a sequence of that crazy downhill...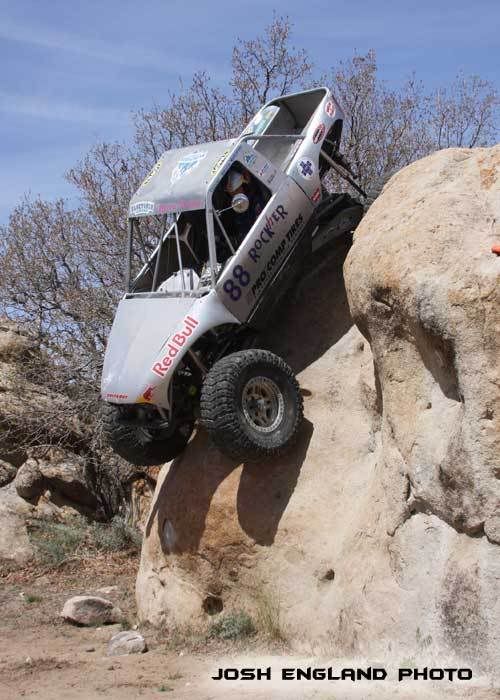 The RockHer can drive down steeper hills than most of the other competition vehicles because of it's weight balance being so central and so low. The Pro Comp X-Terrain tires hook up amazingly well, and give Becca a chance to crawl down this steep face, until this point that is, when the axle tube hits the rock and she slides down fast.
In just about three more feet, the front tires will reach the vertical part of the descent and it's an instant free-fall with an abrupt ending at a 90 degree transition. Take a look at the front tires in this next shot!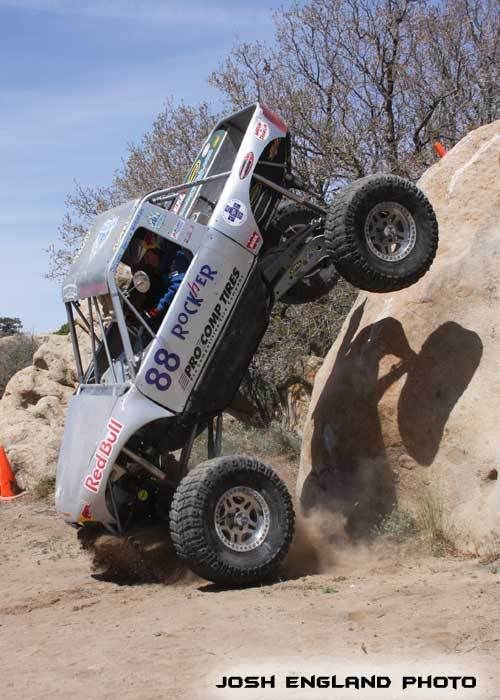 Gotta love all of the dirt dumping out from the nose in this part of the run...talk about a shovel digging in deep on that pic just two shots above! Becca's already in second gear at this point, and right as the RockHer dropped off, she had flipped the switch on the air shifted Lovell Transfer Case so she would be in front wheel drive only to drive out of the endo that so many faced.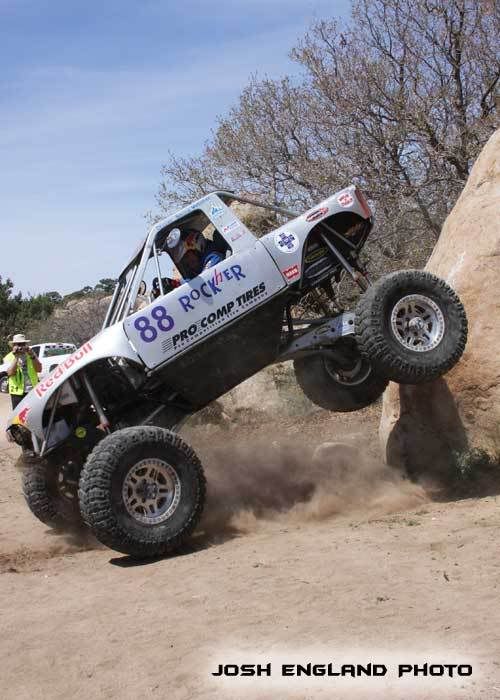 To see how hard the final hit was...take a look at the rear tires in the next shot!
If you take a close look at all of the photos in this series, you'll see that Becca is held in place amazingly well. We attribute that to our MasterCraft 3G seats, MasterCraft 5-point harnesses, proper installation of those belts, the smarts to actually tighten them properly and SUPER tight, dialing in our Sway A Way Nitrogen bump-stops, plus our lightweight carbon fiber helmet from RYPUSA.com. Look at her head...it doesn't hardly move, even with the huge hit. Lightweight helmets sure make a HUGE difference.
We hope you enjoyed these shots and thank Josh England for all he does for this sport. Really, you're an amazing guy and we appreciate all you do!

So you all know, we're getting ready to head east to the W.E.ROCK Grand National Championships of RockCrawling taking place at Hannibal Rocks Park in Hannibal, Missouri. The facility is where the regional events of R-Rock take place and we're looking forward to competing in one of the best run off road parks in the country. We'll head east on Sept 1 and compete Sept 5 and 6. For more info on that event, check out the sport's website at www.WeRockLive.com
The included photos are not for re-distribution in any form. If you wish to use any of them or access more event or team specific images or video, please contact Dustin Webster and he will arrange official photo releases.