Red Bull RockCrawling Team - 2008 Event Report
W.E.ROCK RockCrawling in Cedar City, round 3 of the Western Nationals
June 25, 2008 - Wow…that's the best way to define Becca and Mike's weekend at the third round of W.E.ROCK. The Cedar rocks show no mercy to teams but this weekend, it looks like Becca and Mike showed the rocks who was boss.
Last event, the team was plagued by nasty bonus lines and with the way the courses looked this round, it looked like we might have a repeat of the last event. That proved to be wrong as the team and the RockHer hopped from course to course capturing low scores here and there by driving against themselves, versus worrying about points and the other teams.
By the end of day 1, the duo was sitting comfortably in fifth place, not a bad start at all.
Day 2 started out on obstacle A4 where most of the Unlimiteds were denied by the first climb, right out of the start gate. The Pro Comp Stickey X-Terrains hooked up perfectly and Becca and Mike soon found them selves one-shotting the first big climb and breakover with perfection. The second gate and off-camber turn made things interesting but with a single backup, they made it through without taking any cones. The final downhill off-camber section proved a nightmare for most other teams but seemed an easy task for the Blue Torch Fabworks built RockHer II. Well within the time limit, the team crossed the finish line only one point away from a perfect score.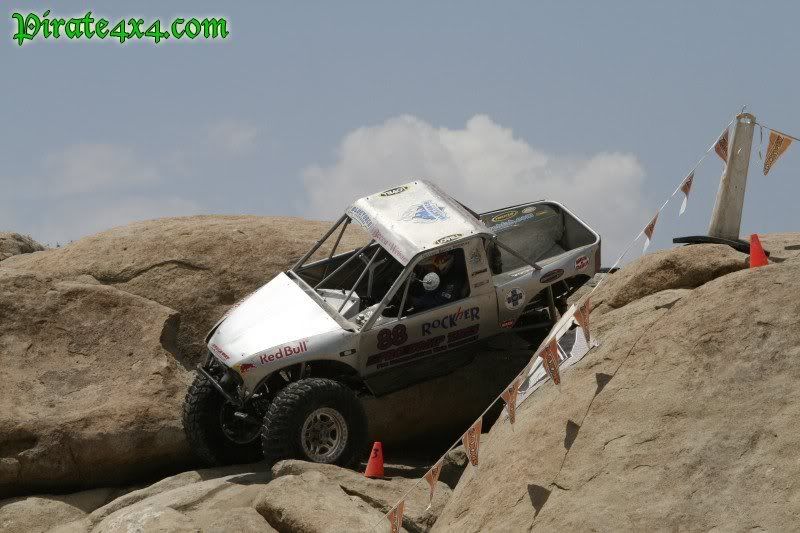 A1 was next and due to a risky breakover line they attempted, a cone was hit in sacrifice, but that's OK, most teams didn't even complete the course. The team went on to finish in time and with a solid score and were now sitting in second place as they went into their third course. There were two lines through the first gate…one was to sacrifice a cone and play it safe. The other was to dive into a nasty crack and hope to make it out to attempt the rest of the course. Unfortunately, they chose the crack and the crack won, rolling them on their side as they tried to drive out. A massive bummer considering the position they were in, but they were not here to compete for second place...they needed those precious points.
As they entered their 8th course of the weekend, they knew they needed perfection to be able to hold their own as the last rollover had moved them into 14th place. Half the field hadn't been able to complete A3 and only two had done so in the negative points range (negative points are GOOD). Becca and Mike climbed the first ledge and used skid steer and ARB Air Lockers to get lined up for the second climb, then quickly found themselves balancing on both rear rear wheels with the right rear wedged under a large undercut. Becca threw it out of rear-drive using the Lovell Air Shifter and tried to drive up in front wheel drive. Though it broke out of the wheelie, there was not enough traction to overcome the insane undercut on such a big climb. Taking a single backup, they moved over about 3" and hoped it would be enough. Using a line I doubt anyone would ever attempt, Becca sidehilled the big climb and trust me, I now believe in levitation because there is NO WAY they should have been able to make the leaning climb they did. Pro Comp Tires gained a number of new fans after watching that line! Lining up for a big bonus dropoff, the team found themselves just as they had in the first two events of the season…on their last obstacle, perched on a cliff, and needing to pull off a big drop cleanly to hold their rankings. Well, they did, and cleaned the final set of gates, ending that course with the best score of the weekend, even out of the unlimited class.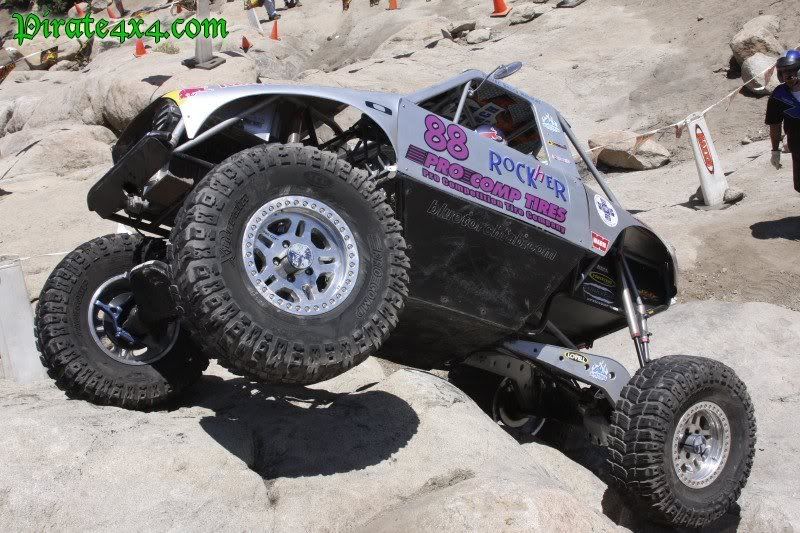 Becca and Mike would go on to finish 7th place and due to their amazing performance and only bad luck on one course. They are very confident going into the final event taking place at Donner Ski Ranch July 19 and 20.
Oh, and by the way, History Channel's Modern Marvels was in Cedar to do a story on the amazing machines and teams of our sport. Becca and Mike were interviewed and followed on two courses so were hoping they will see some face time on-camera. If so, that will be very big for our team. Even if not, that program will be a big boost for our sport as that program has non-stop repeat airings all over the world for years and years. Next, we've done another episode of OffRoad Adventures on Outdoor Channel. Things are looking very good for our team media-wise and we look forward to seeing the many programs we've been working on.
On that same kind of note, Dustin travels to emcee the W.E.ROCK Eastern Event this week in Jellico, Tennessee where he will be a part of the new Discovery Channel program titled "Adventure Guy". The program will air this fall and we are all very excited to see the non-stop calls and requests from major-media for more stories about rockcrawling.
For more on the sport, check out www.WeRockLive.com, www.pirate4x4.com, of pick up an issue of CRAWL or DirtSports Magazine...better yet, visit www.haulinorcrawlin.com and pick up one of their Extremey Award winning DVD's, which our team is featured in.
The included photos are not for re-distribution in any form. If you wish to use any of them or access more event or team specific images or video, please contact Dustin Webster and he will arrange official photo releases.